Luxe for Less: Coco Rocha
Chances are you don't immediately recognize the name Coco Rocha, but once you spot this Canadian import, you will most definitely recognize her face. As a favorite of Marc Jacobs, Karl Lagerfeld, and Zac Posen, she has covered some of your fave fashion glossies, opened the best of Parisian couture, and even been name checked in a Kanye West song. Yes, she truly is a superstar and has the enviable closet to prove it. So, it shouldn't come as a surprise that we were seriously obsessed with her recent monochromatic ensemble featuring some seriously cool zipper detailing, as well as pink patent leather heels. But, knowing Rocha's love of J Brand jeans, thrifted goods from exotic markets, and young American designers (think Alexander Wang, Proenza Schouler, and Rodarte), we knew this look would be way out of our budget. Fortunately, we managed to create a nearly identical outfit, but our version costs a mere $100.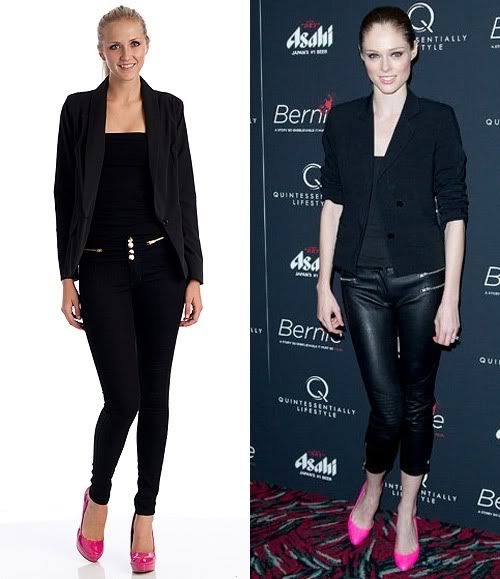 solid tuxedo blazer, tube top, ball zipper jeggings, patent platform pump

What do you think? What other celebrities would you like to see on the Luxe for Less?