Luxe For Less: Zoe Saldana
Zoe Saldana pranced onto the movie scene in 2000's completely underrated Center Stage as a trash-talking rebel ballerina and over a decade later she continues to epitomize understated elegance. In a recent look, the Avatar beauty rocked simple royal blue jeans and a cute tank. And, while the ensemble may have seemed completely casual and low-key, the cost most definitely was not. Why? Zoe was strutting her stuff in J Brand jeans- the same jeans favored by the likes of Kim Kardashian and  Katherine Heigl. If you're familiar with the brand you know that their designer denim starts at around $175 and that's most definitely on the low end of the price spectrum. Conversely, our entire look will run you less than $150. Yes, that's right- snag designer style for less than a pair of jeans.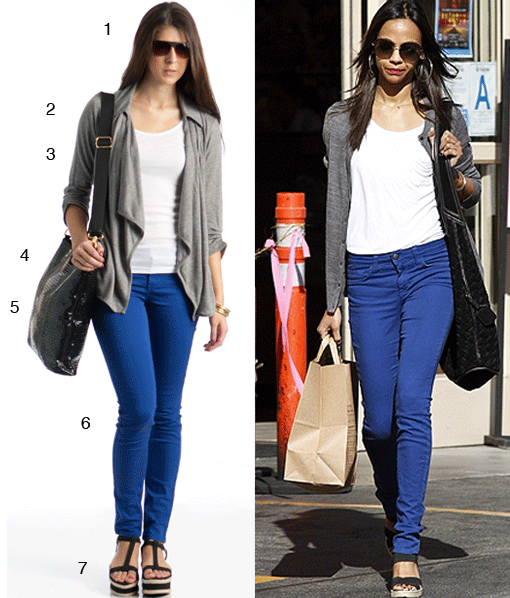 1.
metal checker print sunglasses
2.
shirred sleeve pocket cardigan
3.
scoop neck tank
4.
patent textured design purse
5.
woven chevron bangle set
6.
five pocket solid color jeans
7.
strappy espadrille wedge
So, how do you guys like the look?
PS: Next week we're doing a requested look for one of your favorite ladies in the game. But, we don't want to spoil the surprise and therefore, we'll only give you a hint: she managed to rake in some serious kash from her short-lived nuptials.