Bored of the Little Black Dress Epidemic?
Dear Jane: What's a Fashionable Alternative to the LBD?
Finding the perfect LBD, or little black dress, can be a challenge, but it may not be quite as difficult as finding a fashionable alternative to the LBD. Why? Because you're still seeking something eternally stylish and versatile, but with the addition of color. Check out our selection below for a very easy update to the classic LBD. We're offering the same simple dress, but we put together a look for the day and the evening because we wanted to show you just how flexible a non-traditionally hued dress can be.
1.
button cuff bootie
2.
shirred sleeve dress
3.
animal print cuff blazer
4.
shield mask ring
1.
embellished bead necklace set

2.
layered chain-link rhinestone ring

3.
shirred sleeve dress

4.
velvet pump
But, let's say that you want something a lil' bit more sassy and less expected. The solution? Find a frock that is a relatively simple print. Moreover, this isn't the time to experiment with asymmetrical necklines, differentiating hem lengths, or adornment. We've included one of our favorite prints below styled in dramatically different ways to show you that yes, leopard can function as a neutral.
1.
sequin cuff sleeve blazer
2.
strapless leopard print dress
3.
leatherette cuff buckle strap boot
4.
yoga pants
5.
stone inset cross necklace set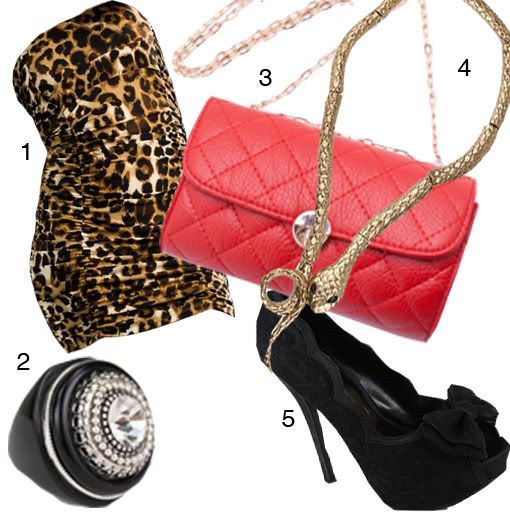 1.
strapless leopard print dress
2.
rhinestone medallion ring
3.
quilted leatherette clutch
4.
magnetic snake necklace
5.
scalloped lace bow pump
What other style questions do you have? Drop us a line and you could see your question here!