Luxe for Less: Pippa Middleton
Kate Middleton's kid sis has suddenly become a style icon thanks to her posterior and posh taste. Her look is refined, polished, and feminine- think cropped and fitted jackets, skirts with lace detailing, and demure flats.  Yet, we suspect that this look's simple charm may be misleading when it comes to pricing. After all, that quilted bag may not be the work of His German Highness, but we have no doubt that it is from a design line by a certain celebrity rocker with a penchant for ruby red lips. Furthermore, Pippa combines high fashion with high street by rockin' Chanel sunnies, a lace H&M dress, and a tweed jacket courtesy of Zara. Of course these brands are out of reach for most of us stylish sisters and consequently, GoJane presents Pippa's look at a price we can all afford: around $100!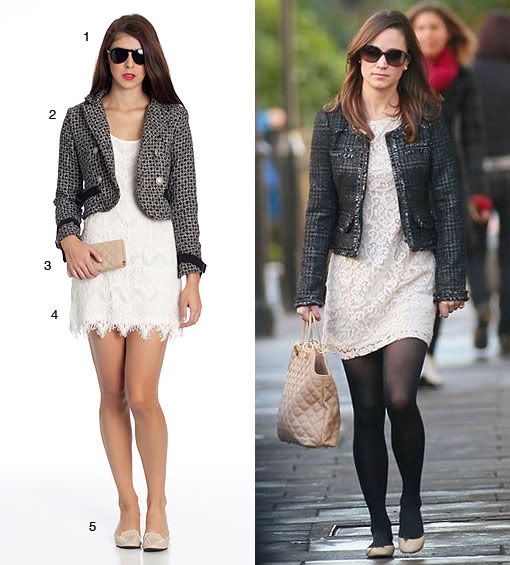 1.
Design bridge sunglasses
2.
Cropped tweed jacket
3.
Quilted leatherette wallet
4.
Embroidered tank dress
5.
Patent finish flat
What celebrity or designer looks would you like us to do next? Let us know and we'll be sure to do so!