New Years Eve Outfits For All Occasions!
What do you have planned for this upcoming New Year's Eve? It's the last celebration of the year, so you best come correct! You better kiss that boy you've been dying to kiss or say those things you've been needing to say! This could all be dangerous advice, but we want you to live it loud and live it proud! No regrets! Besides, it's an unwritten rule that what happened last year SHOULD NEVER BE SPOKEN OF EVER AGAIN! And anyone who breaks that rule should be severely punished! May all her shoes be half a size too small for the rest of the year. Haha. We're so mean!
So wherever it is you find yourself on this momentous occasion-take a deep breath…and with your feet pressed firmly to the ground, we want you to scream out the one thing you've been dying to say! And if you're at a lost for words, just scream, "I LOVE GOJANE.COM!"

1.
cutout snake wedges
2.
ring front colorblock halter dress
3.
beaded snake cuff bracelet
1.
polka dot socks
2.
cropped cartoon top
3.
tribal print pants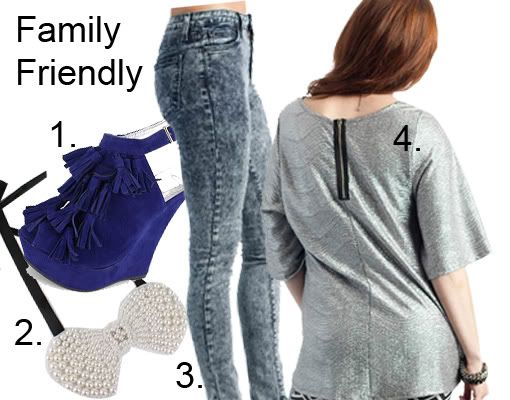 1. 
fringe slingback wedge
2.
beaded bow necklace
3.
acid wash high waist jeans
4.
metallic zipper top